CEVA Logistics' conveniently positioned portside multi temperature 10,000m2 storage facility The Chill Hub, situated at the London Gateway Port way, offers up to 10,000 pallet positions featuring seven independent chambers capable of operating at all temperature ranges, from -25°C through to +16°C.
Since opening just over a year ago, the company says it has successfully on-boarded multiple customers from the fresh produce, chilled FMCG and retail industries. "Our customers all experience a first-class service as we look to build long-lasting partnerships," says Martin Olverson, head of business development – cold chain solutions at The Chill Hub. "Our clients all have access to the customer portal, compatible with any device, and can import data, retrieve live information up to pallet level and upload orders at the touch of a button."
Flexible, fast throughput
In these uncertain times of Covid-19 and a Brexit deal or no deal, CEVA recognises that providing flexible, fast volume throughput to deal with manufacturing and harvest capacity fluctuations is paramount to keep the supply chain moving. "The Chill Hub is strategically located with direct access to the deep-sea port London Gateway and good links to the southern short sea and ro-ro ports. It is also ideally positioned to provide fast, direct distribution of chilled goods to the south east consumer market," says Olverson.
Excellent Environmental credentials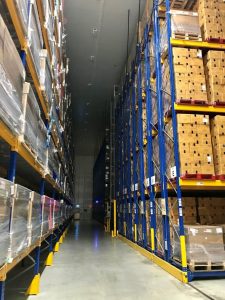 Reducing 'food miles' and carbon emissions through cutting inland mileage is only the start of the firm's environmental credentials, he adds. "The Chill Hub is housed in a building of exceptional quality, powered by renewable solar energy. Sensor controlled, energy-efficient LED lighting, along with rainwater collection used for cleaning and the supply of toilets, provide energy efficiency – an ongoing objective for the company."
Value-add services
In addition, a full range of value-add services at the facility include labelling, boxing, re-palletising, price coding, tagging and kitting. "With London less than an hour away and The Chill Hub's extensive range of services, there is no need to make your products travel any further for your London and wider south eastbased customers. Increased shelf-life and reduced transport costs benefit both our customers and the ultimate end-consumer," he says.
Mathieu Friedberg, CEO at CEVA, adds: "As a one-stop-shop, we can provide a unique value proposition to our customers: faster delivery of goods through The Chill Hub's energy-efficient building; and full visibility and control of the entire inbound operation."
For more information, please contact Martin Olverson.
Email: martin.olverson@cevalogistics.com
London Gateway Logistics Park, North Sea Crossing, West 6 Stanford-le-Hope, Essex, SS17 9ER, UK