PALLITE has announced a product diversification and launch of its new warehouse storage solution range – PALLITE PIX.
PIX is designed to increase available capacity in warehouses by consolidating pick-faces to free up under-utilised space while increasing pick efficiency and accuracy.
As warehouses require more and more the ability to flex their storage space around their ever-changing product ranges, the PALLITE PIX range will become increasingly prevalent.
The ideal solutions for warehouses and 3PLs
PALLITE PIX is a range of lightweight, flexible and robust storage and shelving systems made from 100%-recyclable paper honeycomb deck, that are designed to consolidate pick-faces. By creating free space. You can store more product and ultimately increase the yield of your warehouse while maintaining the ability to flex around the demands of your supply chain.
Made from sustainable materials, the PALLITE PIX range features removable dividers to allow you to flex your storage around your product, with reinforced edges to prevent wear and tear. It's easy to improve your pick efficiency by reducing pick times and walk sequences.
The range is available in both standard and bespoke sizes to fit all types of warehousing and racking. Each honeycomb shelf has a smooth edge applied for labelling to allow for items to be easily identified to improve pick accuracy.
The PALLITE PIX range is strong enough to hold up to 500kg per unit and remains lightweight to protect teams from manual handling injuries. What's more, the units can be built and dismantled with ease without the need for tools or screws and be stored flat-packed to help keep warehouse layouts flexible.
"Consumer demands are ever-changing and supply chains are always under pressure to squeeze the asset against headwinds. With shifts in sales density and store sizes changing, labour and fuel inflation, as well as more dynamic consumers, it's more important than ever to focus on creating space and improving productivity," said PALLITE CEO, Iain Hulmes. "It's hard to commit to a fixed solution when your space requirements can change so quickly. The PALLITE PIX range offers a solution that allows you to be flexible, save space, and become more efficient in the process."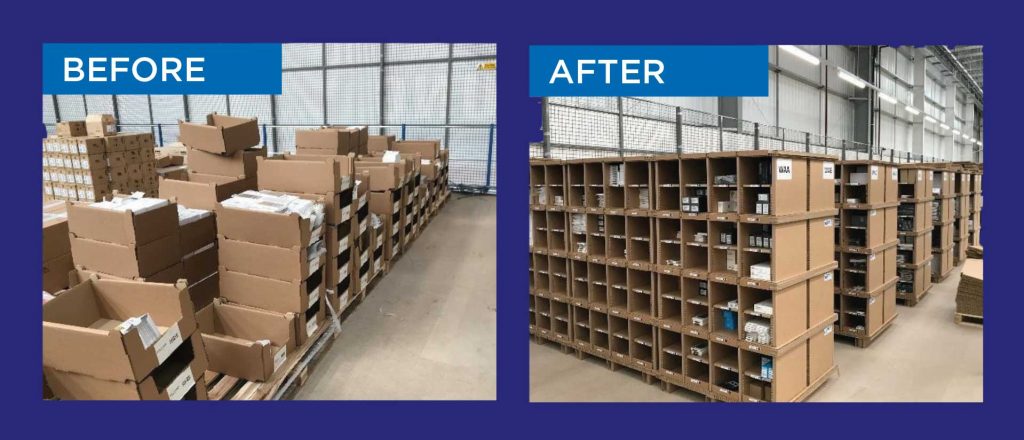 The concept of PALLITE PIX began when supplying one of the UK's leading 3PLs with PALLITE's award-winning pallet boxes. Following the development of the PALLITE PIX concept, the range has grown to include a variety of different standard units and storage accessories and is now in use and supported by many 3PLs. With the flexibility to design and create bespoke solutions based on an individual site's requirement, the PALLITE PIX range is suitable for all warehouses.
As an alternative packaging specialist, PALLITE provides a viable alternative to wooden pallets and crates that is 100% recyclable. Their lightweight paper pallets, pallet boxes, layer pads and components are designed to reduce the total cost of shipping consignments while boosting organisations' green credentials. Stronger than standard cardboard pallets and boxes, they carry heavy loads with ease thanks to their innovative 'honeycomb-cell' design and IP-registered designs.
Businesses use their award-winning products across all industries, including the aerospace, automotive, healthcare, pharmaceutical, warehousing and logistics, and food and FMCG sectors.