By Hazel 4D
Usually when we talk to clients about how much they spend on stretch film, we'll hear an answer about cost per kilo. What we hear less often is how far that weight goes – how many pallets can a kilo wrap? Yet that is the only way we'll know the value that our plastic wrap is delivering, so it's time to change – no more price per kilo!
Let's talk about price per pallet wrapped. We promise, make that change and you'll think differently about your plastic wrap and what it's really costing you.
Here's an example: Extremus – our best-selling stretch wrap – costs more per kilo than the average. But it delivers around 300% stretch, so it goes much further, and creates a more stable and secure pallet (and lots of other value that can't be easily quantified, like cost savings, reduced plastic waste, easier handling – all leading to fewer returns and damages).
Think of what you're spending per pallet wrapped and Extremus is clearly the intelligent choice. On optimised machines where Extremus can be applied at can be less than 4 microns, 1 metre of film becomes 4 metres.
Plus, price per kilo really also needs to take into account the weight of the core which for some brands can be up to 2.2kg. Extremus' core weighs just 1.1kg, so the price you're paying is for film, not for the core. And when the plastic tax begins in April 2022, inefficient wrapping will cost companies even more. All of this means that using Extremus significantly reduces your price per pallet wrapped.
What could a switch to Extremus mean in real terms? Based on research with our customers, we've found that switching to an 'expensive' film like Extremus can actually deliver cost savings of up to 78% per pallet wrapped. We've seen it reduce film costs for one of our customers, a snack food manufacturer, from 97p per pallet wrapped down to just 24p.
"Thinking of the cost per kilo of our film is meaningless – it doesn't tell us anything about your real costs or opportunities to save. When we think in terms of cost per pallet, then we get an idea of how much our true costs are, and potentially, how much we're losing to inefficient wrapping. Often when we work with customers to explore this, their cost per pallet is a revelation to them. They might be shocked to start with, but one of our consultations is the beginning of making it better too."
Garth Christie, Chairman of Hazel 4D
PET FOOD CLIENT SAVINGS
A pet food client was shocked to discover the difference in the current cost of wrapping pallets, and the weight of film used, across their four production lines – but was delighted by the savings we could deliver for them.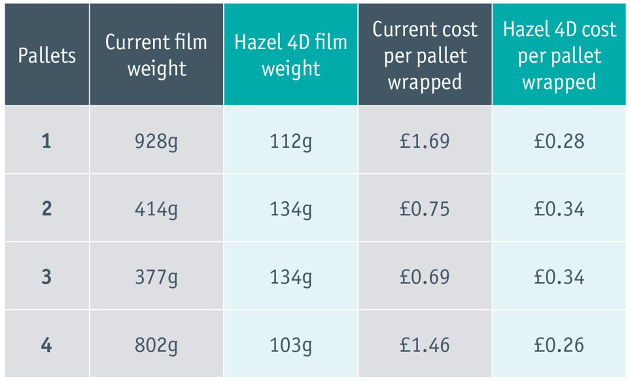 Another customer said:
"I had no idea we were applying over 1.1kg of film per pallet. Hazel 4D have successfully achieved a much safer pallet with less than a quarter of the weight of film."
Distribution Centre Manager, Nursery Brand and Manufacturer.
The team at Hazel 4D will work with you to understand your needs, recommend a tailored solution and optimise either your own or new machines and materials. This means that you'll get total load stability and a real weight off your mind. Plus, we'll make sure it stays that way with regular visits to ensure your system is always on top form.
Click here to book a free consultation
Or if you're ready to start a conversation you can get in touch with us on 0113 242 6999 or email wecare@hazel4d.com.