WHITE PAPER: Real-time Transportation Visibility Platforms must do more. What's next?
By Shippeo
There have never been more supply chain management solutions available to organisations. Yet a recent PWC survey of executives shows that only 17% believe their supply chain technology investments have yielded expected benefits.
For supply chains to thrive and be resilient in the complex, volatile and uncertain world we live in, transportation management needs to be more agile than ever. Venture capitalists and others have invested hundreds of millions of dollars into various real-time transportation visibility (RTTV) platform companies.
But how should the RTTV platform evolve? What place should it have in the overall supply chain management (SCM) application architecture? What do customers want? And what role should RTTV platforms play in enabling the new paradigm of agility and adaptability that is necessary to thrive in a world that requires increasing precision in the face of increasing variability and volatility?
Today, Shippeo, a global leader in real-time multimodal transportation visibility, has brought these strategic questions into the spotlight through a discussion of a strategy in which they conceived, drove, and recently launched this year. Shippeo calls this strategy "Transportation Process Automation™ (TPA™)."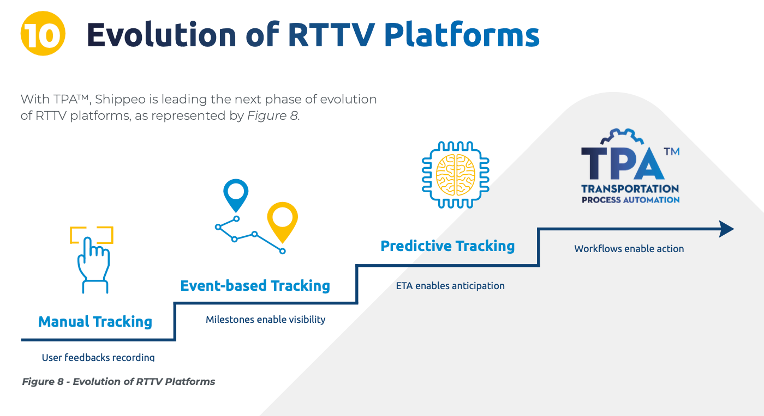 Shippeo's TPA™ strategy provides a novel approach to collapsing and automating connections between processes to reduce latency and accelerate decision making. Imagine a world where manual and repetitive tasks, such as order processing, load planning, and carrier selection, are a thing of the past. With TPA™, supply chain and transportation leaders can automate these critical functions, freeing up valuable time and resources to focus on more strategic initiatives.
With TPA™, Shippeo closes the gap on visibility being only a necessary but insufficient condition to drive transformation. But instead, it's about making visibility actionable, to enable resilient supply chains and provide the foundation needed for true supply chain convergence.
Learn why TPA™ is the future of supply chain management by accessing Shippeo's new white Paper "Closing the gap between visibility and intelligent action to achieve supply chain convergence."