Hazel 4D are stretching to meet the plastic waste challenge
By Hazel 4D
Pallet-wrapping in the UK uses over 140,000 tonnes of plastic each year and a huge percentage of that is waste. The cost is massive, in money and environmental impact.
So, what can we do to minimise plastic usage and waste without compromising stability? Our retail and logistic customers look to us to blend materials, machines and monitoring into a perfect solution. Hazel 4D's commitment to cutting waste and enhancing stability at the same time is already reaping results for many of them, like Micronized Food Products Ltd.
"With our old machine, tests showed we were using 810g of stretch film per pallet. The Hazel 4D team were able to get this down to 167g per pallet by optimising the new machine's settings. That's a plastic reduction of 79%, a major environmental win as well as a substantial annual cost saving" says general manager Andrew Shentall.
Consultations always comes first, carrying out extensive testing using our FEF200 mobile testing unit, to really understand a customer's current set-up and make recommendations that we know will make a difference.
"Typically, our consultants see customers wrap pallets using 17-23 micron cast stretch film, stretching between 0-200% depending on the quality of the film", explains Kevin Oliver, H4D technical sales manager.
"So when we can go in, optimise or replace machines, introduce a great nano-film like Extremus which can achieve over 300% stretch that means we're taking 1m of film and stretching it to 4m. We train everyone to make the best of it, we're making immediate impact on waste and cost."
Savings are not just on direct materials costs, either, but Packaging Recovery Notes which really add to the bill for many of the customers who we see for a consultation. This table shows how we made a difference to a pet food manufacturer, reducing their PRN costs by 81%.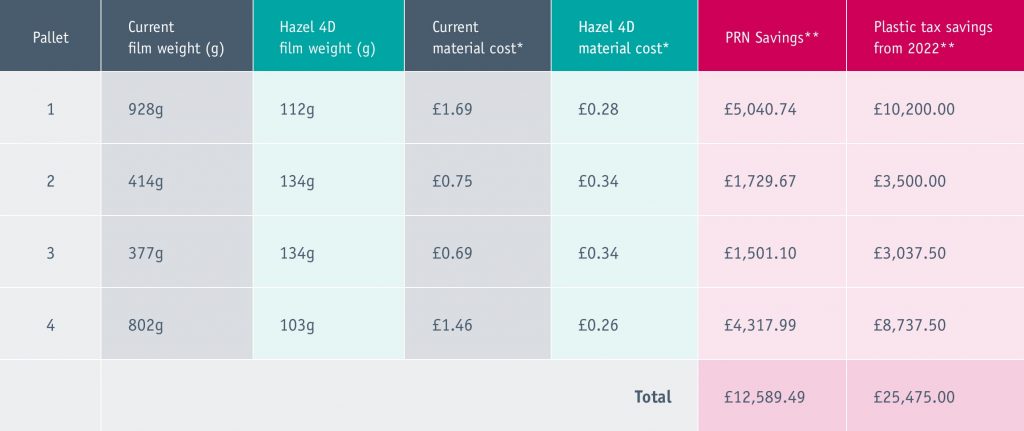 *Per pallet wrapped, ** these numbers are based on a company wrapping 250,000 pallets annually, with 62,500 pallets per each example in the table
In spite of significant opportunities to save, many businesses continue to miss out. The weakness could come at any point of the chain, explains Kevin. "They might be using a great film with a machine not configured to make the best of it. Or they might be using a great machine with poor film, or their staff aren't trained to optimise the set-up and to maintain it. Or they're working with very heavy, or awkwardly shaped items and think extra wrap is the only way to achieve stability. So our consultation finds those weaknesses and we respond with a complete Intelligent Load Stability system designed to lower cost, lower waste and optimise stability, no matter what you're packaging."
Our waste saving solutions consistently deliver a more stable pallet, too. Our recent Intelligent Load Stability review for a bathroom manufacturer reduced their plastic usage by around 80% and their costs by £60,000. Our consultation found that they spent significant time and money applying heavy shrink hoods to bulky pallets for stability, using costly propane shrink guns.
Installing energy efficient pallet-wrappers, switching to Extremus film and removing the need for shrink hoods and guns streamlines the whole operation, takes a fraction of time per pallet and makes a huge cut to their plastic wastage – our customer saved 16.64 tonnes of plastic per year!

"Hazel 4D have proven to be a partner we can rely on and we have now placed an order for a permanent custom pallet wrapping machine. It's nice knowing that we have a responsive partner that we won't have to chase should we need maintenance in the future.
I would not hesitate in recommending Hazel 4D, their pallet wrapping machinery or Extremus Nano film technology to any potential client wishing to upgrade their pallet wrapping systems and make improvements to their operation."
Micronized Food Products Ltd.
COULD WE HELP YOU CUT COSTS AND PLASTIC WASTE, TOO?
When we work with you to understand your needs, recommend a tailored solution and optimise machines and material, you get total load stability and a real weight off your mind. Plus, we'll make sure it stays that way with regular visits to ensure your system is always on top form.
Click here to book a free consultation and find out more.
Call a packaging expert on 0113 242 6999 or email us at wecar@hazel4d.com