Is carbon management crucial for a clean supply chain win?
As the urgency to combat global warming intensifies, enterprises are increasingly adopting rapid decarbonisation practices to align their business strategies with sustainable development goals (SDGs).
With a focus on addressing the dual crises of climate change and the ongoing destruction of natural ecosystems, businesses are at the forefront of sustainability efforts and are highly interested in investing in carbon management technologies to systematically reduce their CO2 emissions, says GlobalData.
Kiran Raj, Practice Head of Disruptive Tech at GlobalData, said: "From green financing and green buildings to green IT, investments in clean technology are on the rise, defying the considerable geopolitical and macroeconomic headwinds that affected most capital markets. The fast-paced adoption of carbon management technologies will continue in 2023 and beyond as governments, corporations, and investors increasingly collaborate to make the low-carbon future a reality."
Shagun Sachdeva, Project Manager of Disruptive Tech at GlobalData, added: "Across the broad spectrum of carbon management solutions from new materials, clear sustainability disclosure standards, improved carbon capture techniques to more adaptive supply chains, companies are constantly innovating to stay ahead of the curve. The key for the companies will be to evaluate their strategies in light of growth and return projection and strike a balance between capability and profitability.
GlobalData's Innovation Radar report, "Green business: How carbon management technologies help reduce CO2 emissions," highlights how the real-world innovations in carbon management across industries can allow companies to either draw analogies with existing products, services, and processes or transfer strategic approaches for a revolutionary transformation.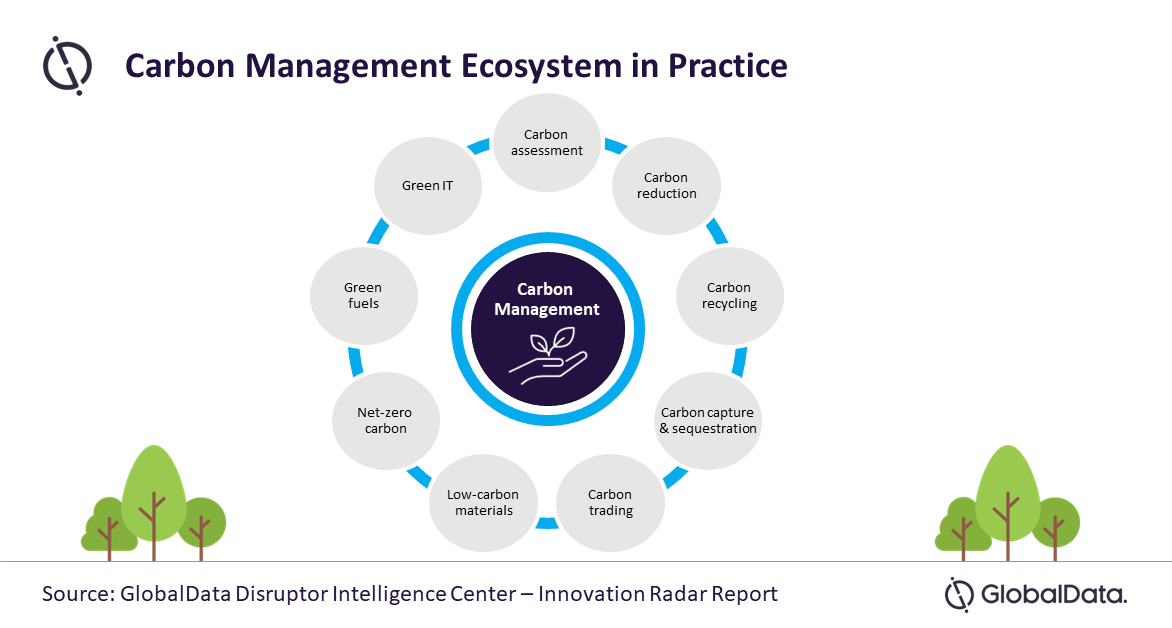 Sachdeva added: "While there has been a slow yet steady rise in carbon management concepts such as carbon assessment, reduction, recycling, trading, and green fuels in the last few years, new innovations in use cases such as carbon capture & sequestration and green IT will take carbon management ecosystem to the next level."
Carbon capture & sequestration
Carbon capture & sequestration will play a promising role in the energy transition, especially in heavy industries like power, steel, cement and oil and gas. It refers to the suit of technologies used for capturing CO2 produced during industrial processes. In June 2022, Italy-based startup Energy Dome developed a CO2 battery for long-duration energy storage. Energy Dome claims that the battery uses CO2 to store renewable energy on the grid and can be deployed anywhere. In March 2022, Danish green-tech startup Algiecel developed a photobioreactor based on a mobile container using algae to absorb CO2 emissions from industrial processes.
Green IT
Green IT or green computing covers information and communications technology (ICT) and computing technologies with lower carbon footprints. This starts with manufacturers manufacturing sustainable products to IT departments switching to more environmentally friendly options like virtualization, power management and proper recycling habits. In February 2023, a Taiwan-based manufacturer and distributor of computer hardware, Gigabyte, introduced next-generation servers with an aim to reduce carbon emissions with its green computing solutions. In January 2023, California-based Data Center-as-a-Service provider ECL launched a modular, environmentally friendly, off-grid data center that uses green hydrogen as its main power source.
Sachdeva concluded: "Despite a strong push towards carbon management solutions, the industrial application of carbon management technologies is still in its infancy and will take significant time to scale up. No major industries currently operate in an entirely circular way. Infrastructure implementation, cost control and standard as well as lack of efficient reporting frameworks being the key challenges at present, it will be interesting to watch how companies will strategically place their bets and meet their M&A targets that not only capture the climate-focused tailwinds but also keep them insulated from the macroeconomic headwinds."